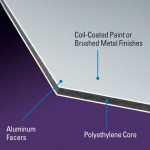 Dibond is an aluminum composite material (ACM) made of two pre-painted sheets of .012″ aluminum with a solid polyethylene core.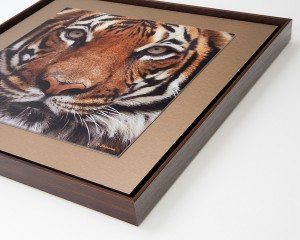 Flattest panel on the market
Superior surface protects expensive digital and screenprinted graphics
Provides excellent durability in outdoor applications
Won't bow or oil can
Approximately one half the weight of aluminum
We've been using Dibond in combination with plexiglass as an elegant, contemporary image mounting solution: The image is mounted behind plexiglass, then affixed to the Dibond material. The Dibond can be flush with the image or can extend beyond the edges of the image so that the texture of the metal provides an accent for the image (as shown in the photo to the right). The artwork can then be hung by itself or in one of the many custom frames we offer. Stop by the store to see several examples of this exciting new product in finished form.
Our pearlescent glossy inkjet paper features a unique silver metallic surface finish, similar to silver halide metallic photo papers. It offers exceptional image clarity, and brilliant color reproduction with a high gloss metallic finish.
Features:
High gloss metallic finish
Smooth, scratch-resistant surface
Vivid and exceptional image clarity in reproduction prints
Gives your photo prints the look of traditional wet process
photo papers
Perfect for quality commercial photo applications such as posters, graphic display and signage.