[previous]

Choose Canvas Options
The next tab, Canvas and Ink Wrap Options, applies only if canvas has been selected a substrate. For all other substrates, the tab will be dimmed and unavailable.
A canvas wrap, or gallery wrap, is the process of wrapping the printed canvas around a custom made stretcher frame. The image is wrapped around the frame for a clean, modern look and for artwork that will be displayed without a picture frame. If there is not enough picture to stretch, we will digitally clone, mirror, or stretch the image so that it wraps around the edges without hurting the integrity of the image. If you plan on displaying your artwork on canvas without a frame and would like us to create a wrap, click on the Inked Canvas Wrap box to select it. If you plan on framing your artwork, leave the checkbox blank, as a wrap is not needed and the portion of the canvas that wraps around the edges of the stretcher bars will be left white.
Next, if we will be stretching your canvas for you and you'd like to order stretcher bars, click on the Stretcher Bars box to select it, then choose the desired depth of the bars that you'd like to use. See the image below for a comparison of the available thicknesses.

If you are printing on canvas, you may skip the next two tabs – Final Paper Size and Weighted Border Options – and continue on to Proofing and Additional Services.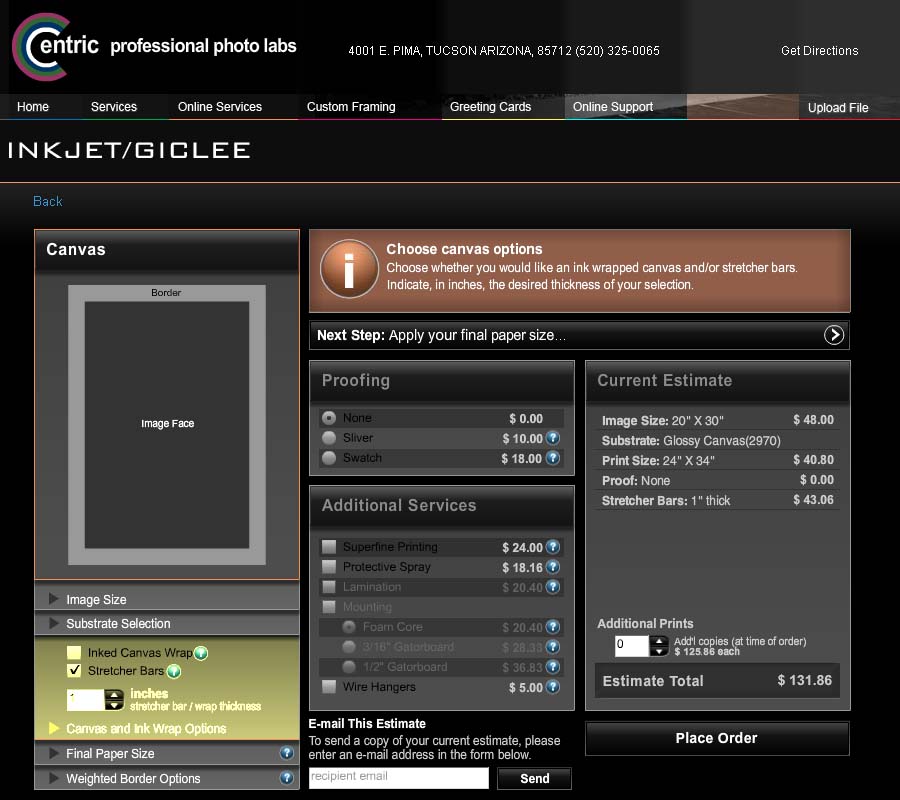 [next]